HIPS is a pipeline for automatic hippocampus subfield segmentation for monomodal (T1) or multimodal MRI data (T1 + T2). It gets anonymized MRI brain volumes in NIFTI format and produces a pdf report with the volumes of hippocampus subfields.
Labelling protocol
HIPS has two different delineation protocols, Winterburn (5 subfields) or Kulaga-Yoskovitz (3 subfields).

Winterburn's labels are: CA1, CA2/3, CA4/DG, SR/SL/SM and Subiculum.
Kulaga-Yoskovitz's labels are: CA1-3, CA4/DG and Subiculum.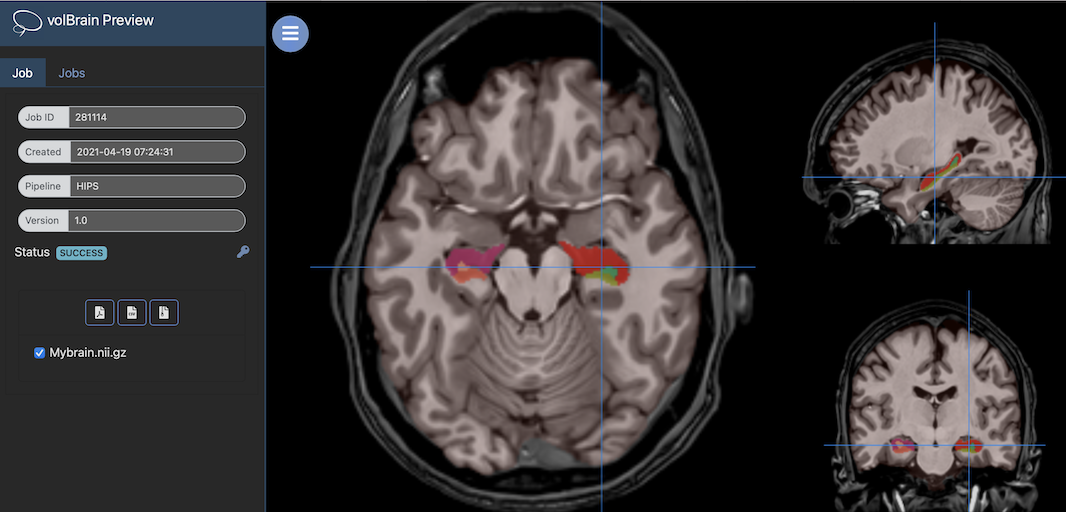 Report
Once the process is finished you will be notified by e-mail so you will be able to download a package including some image files and two (CSV and PDF) reports gathering all the volumetry values calculated from the segmentations. As you can see in the figure below the PDF includes patient information, subfield volumes and their asymmetries. It also includes several snapshots from the different labelling results as a quality control.
References
José E.Romero, Pierrick Coupé, José V. Manjón. HIPS: A new hippocampus subfield segmentation method. NeuroImage, 163:286-295, 2017. PDF